Why are 'firsts' so memorable? Your first crush. Your first best friend. Your first snowman...do you remember yours?
Firsts are irreplaceable, and this year, as a nation, we approach our first post-lockdown Christmas with a shared need for togetherness.
Here at Charles Bentley, we've done something extra special to help you make this Christmas even better.
We're giddy with pride as British homes welcome our NEW, beautifully detailed Christmas decorations into their living spaces for the first time. Our debut Christmas collection boasts head-turning baubles, lights, trees and accessories — and we have 160 years' of home furnishing excellence to thank for their instantly appealing style.
To help you experience unforgettable memories this Christmas, let us guide you through our four expertly designed collections. Choose from Scandi, Art Deco, Traditional and Industrial. Each brings unique qualities to a home interior, but which is right for you?
Once you've decided which of our four collections is perfect for your home interior, only three essentials remain:
Essential 1:  The Christmas tree
With three tempting sizes to choose from, at Charles Bentley, there's a surprisingly realistic faux Christmas tree for every home. Perfect for low ceilings, our 6 ft tree is neat and portable, while our 7 ft tree is a classic size that looks gorgeous under standard 8 to 9 ft ceilings. For rooms with high ceilings and extra space, make a grand statement with our kingly 8 ft tree. We even cater for narrow spaces with our handsome 7 ft slimline tree that brings festive life to tight spaces.
All our Christmas trees are available either naked or pre-lit, giving you complete control over your decorative input. *Excluding our slimline tree, which comes naked only.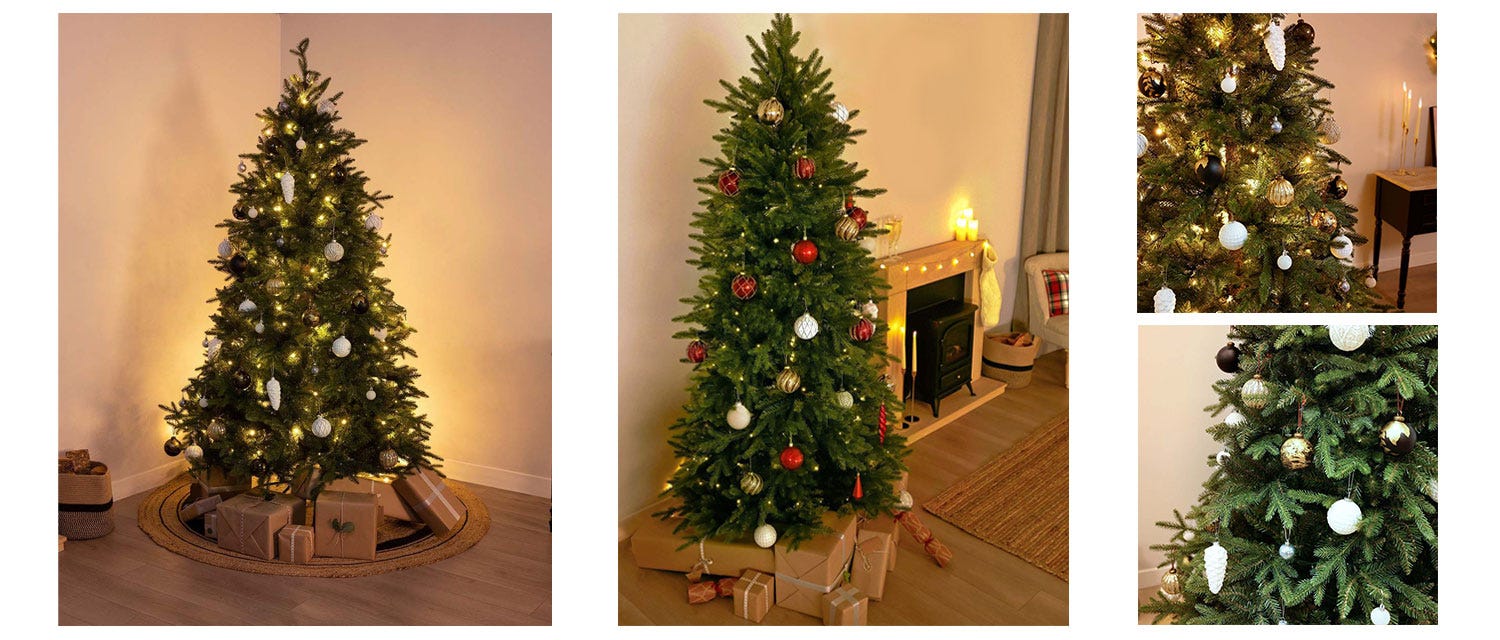 Essential 2: The Christmas garland & wreaths
With luscious foliage, our faux wreaths and garlands are a must-have Christmas decoration, bringing a comforting flourish to a home. Pre-lit for convenience, these festive favourites bring an instant feeling of magic and wonder to a home.

Essential 3: The Christmas door mats
Stylised or authentic, there's a welcoming Christmas mat for every home. For a traditional Christmas doorway, consider our cranberry red or soot black mat, finished with a charming italicised 'Merry Christmas' greeting. Alternatively, for an understated Christmas doorway, consider our chic reindeer mats, featuring charmingly stylised festive graphics.
A final thought from everyone at Charles Bentley…
It seems strange to say this, but remember, no handsome tree, shapely bauble or twinkly light can compare to moments shared with the people you love — so however you spend this Christmas, cherish every one of your relationships, because just like your first snowman, your relationships are irreplaceable.
Merry Christmas,
The Charles Bentley Family x