In 2020 we lived through unprecedented times. The COVID-19 pandemic prompted a lot of us to review how we were living our lives and running our businesses, as well as pushing us to appreciate things which we previously took for granted.
During this time, when orders were increasing and social distancing measures meant we needed to find new ways of working, we at Charles Bentley reflected on the genuine difficulties that others were facing. Our NHS heroes were contending with long hours, PPE shortages and extreme circumstances that were completely unimaginable to us, in order to keep our friends, families, neighbours, colleagues and ultimately the entire nation safe.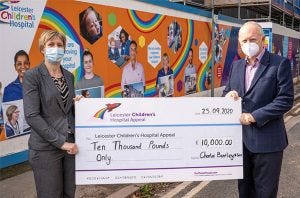 We'll never be able to truly articulate how grateful we are, because it's difficult to put into words what an incredible job our NHS frontline teams, and care workers have done over the past 18 months and continue to do. Our sincere gratitude and thanks will never be enough.
So, we chose to show our gratitude in a different way! In May 2020 we decided to donate £1 from every order placed on charlesbentley.com, PLUS 5% of our profits, to the NHS.
With the support of our amazing customers, we raised an incredible £10,000, which was donated to Leicester Children's Hospital Appeal. On 25th September 2020, Charles Bentley (Managing Director) and Sadie Pollard (Finance Director) were on hand to present a cheque to the charity's Head of Philanthropy, Louise Jones.
We were thrilled to be invited back by Louise on 28th June 2021 to see how our donation, along with those of many others, have been used to transform their children's services and create a state-of-the-art children's hospital.
The unit now boasts brand new, life-saving patient monitoring devices to help support children requiring intensive care. As a teaching hospital, the new high-tech equipment will go a long way towards training the next generation of doctors and saving lives.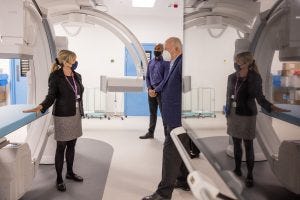 The equipment isn't the only thing that's 'space-age', the entire children's ward has been decorated with space-themed murals, in a nod to the hospitals' proximity to the Space Centre, to reduce anxiety for children who are staying there. With all that excitement, the whole hospital maintains a calming and comforting aesthetic. New reclining chairs have been purchased for every bed to allow parents somewhere comfortable to sit, and sleep, so that they can rest and feel a little more relaxed in some of the most stressful and upsetting moments of their lives.
A touching tribute has been made to the late former owner of Leicester City Football Club, Vichai Srivaddhanaprabha, who donated a huge amount to bring this vision to life, not only is there a plaque for him on the wall, but the King Power Stadium can be viewed from the hospitals' windows, and his picture looks back at them.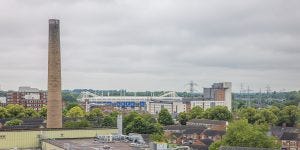 After last year, we were determined to give something back. It is incredible to know that our donation will go towards helping critically ill children and their families both now and into the future, across the East Midlands where Charles Bentley & Sons Ltd have been a part of the community for the past 160 years.
To find out more or if you'd like to donate to the Leicester Children's Hospital Appeal, click here.