Isn't it wonderful how small details, like colour, influence our mood? Is it a coincidence, for example, that many of us stroll through nature to clear our heads? Apparently not, because green is the colour of balance and stability, according to popular colour psychology.
During lockdown, we've all experienced living imbalances, so it's no surprise that our craving for that serene green has soared. Spent more time in your garden lately?
With home gatherings now allowed, summer 2021 could be the most memorable summer ever, so let's explore 3 fun facts that will transform your summer garden into a sun-drenched haven of comfort, happiness and well-being.
1: Say "Hey, grey"
When it comes to home furnishings, Britain's love affair with grey will continue this year. Timeless, classic and an effortless match with primary colours, grey is here to stay. But why? Well, according to colour psychology, grey represents neutrality. Calming and unobtrusive, grey is the perfect neutral tone, often used as a priority colour to moderate brighter hues and pull together a colour scheme.
Make summer 2021 the year you embrace this trend. Set against your delicate garden grass, our grey St Tropez lounge set guarantees a harmonious pairing. Featuring two gorgeous mixed material wicker chairs, an inviting sofa and a lovely multifunctional coffee table, its understated design is ageless, bringing a timeless chic to your outdoor space. You'll fall in love with the rich blend of materials and our signature commitment to comfort. The St Tropez lounge set is a genuine statement piece, and with its expertly-crafted steel frame, it promises long-lasting durability.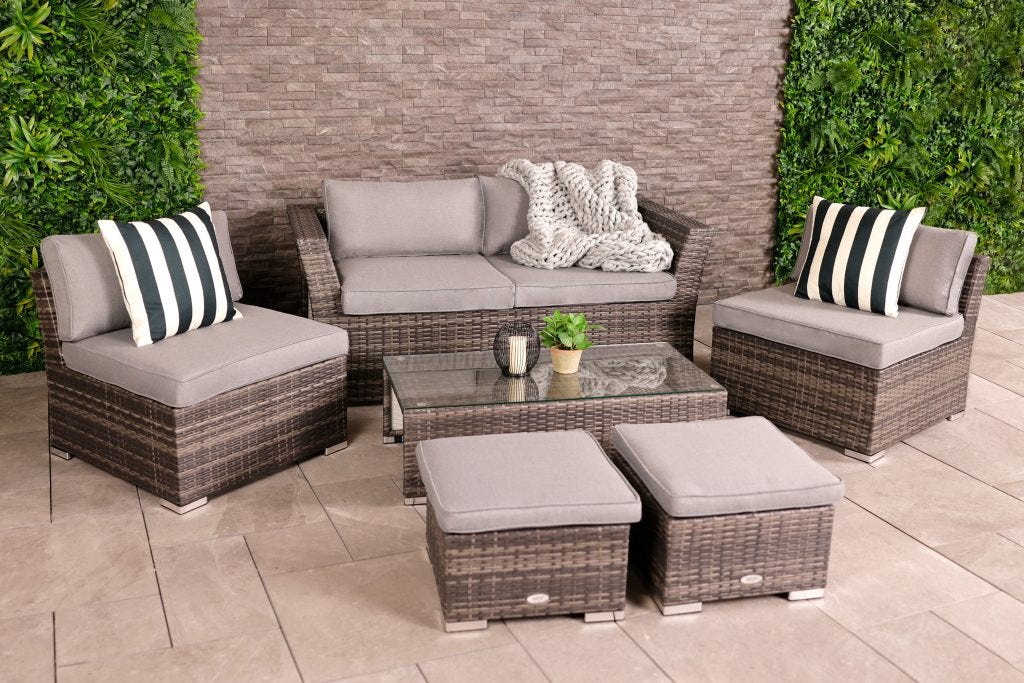 For larger gatherings, have you considered our corner sofa lounge dining set? Quietly striking, watch your guests surrender to its functional al-fresco charm. Comfortably seating up to nine people, this premium lounge set is designed for sharing the finest foods, liveliest debates and heartiest laughter. The crowning centrepiece of any summer garden, this set includes a four-person corner sofa, dining table, stool and bench – all free-standing, allowing you to seat your family and friends however you wish.
And of course, for sharing intimate drinks or cosy lunches, our classic table and chair sets bring you even closer to the people you love. Ideal for smaller-sized gardens where optimising space is key, browse our Stamford 5-piece furniture set, complete with table and cushions. Not only does this rustic, bronze-finished set slot beautifully into modest-sized spaces, but thanks to its cast aluminium materials, it gives you the added confidence of being weatherproof.
2: For a happy fill, grill!
That chargrilled aroma of sizzling foods wafting gently through the warm smoky air, mmmmmMMM!
The delicious smells of a summer garden barbecue often stir more than just our appetites, they usually spark feelings of connection and togetherness, too. Linked more closely to memory than any other sense, smell is the gateway to happy, and a summer barbecues is among the most cherished of all aromatic memories.
So, ask yourself, charcoal or gas? Compact or deluxe? Two burners or five?
Our fabulous range of barbecues satisfy every need. Our premium seven-burner gas barbecue is perfect for cooking large family feasts. Its four individually ignitable gas burners mean you can create a variety of temperature zones across the grill, giving you flexibility to sizzle-up a range of tasty foods, all at the same time. There's even a handy side burner, offering yet more grill space for those piping hot treats.
If you fancy a more intimate feast, choose our medium or kettle charcoal barbecue. Boasting a generous cooking chamber and robust side fire box that gives you effortless grilling, you'll love the control it offers, as you smoke and flavour your food to perfection.
Tip: remember, it's not just the family, friends and irresistible foods that makes a barbecue, no, it's also the music. Please never forget the music!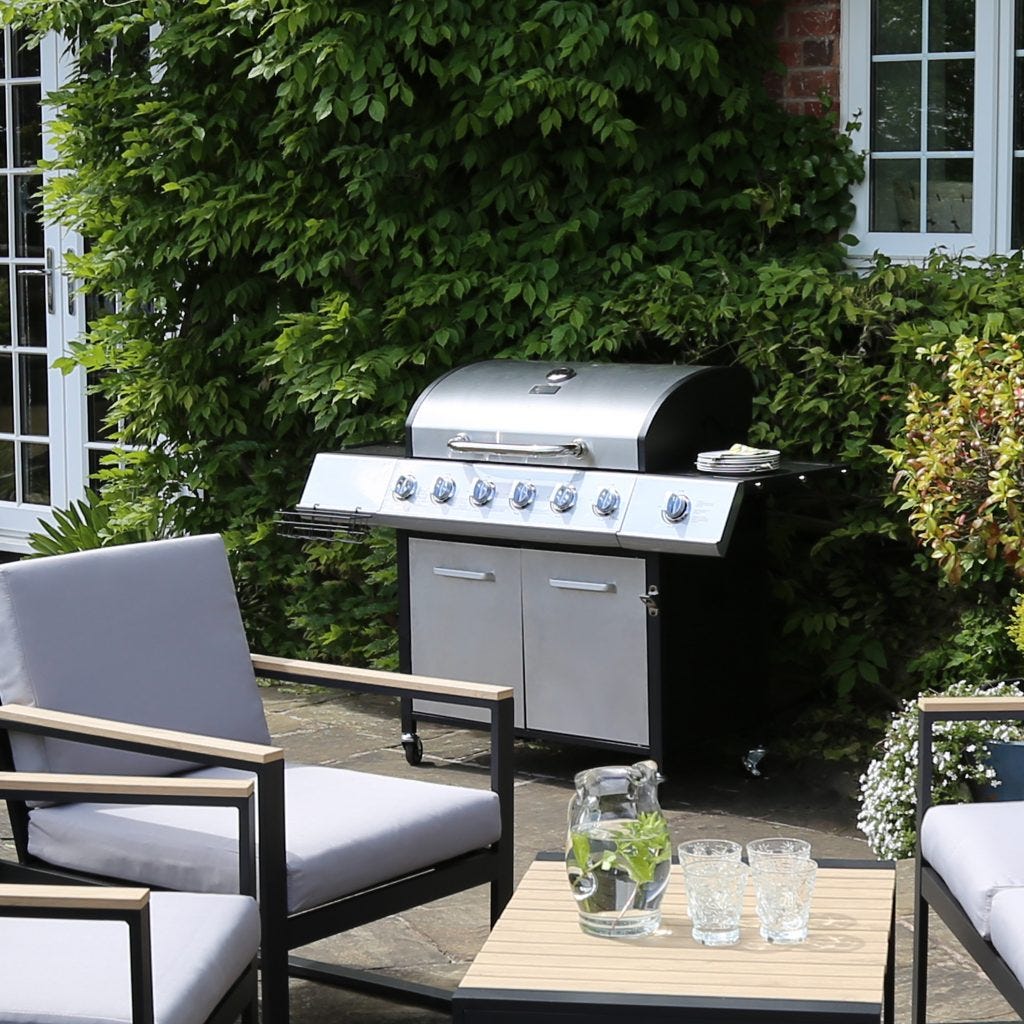 3: Make their day… let them play
If we're to embrace the wisdom of acclaimed novelist Paulo Coelho (The Alchemist, 1988), then seemingly, "... only children believe they're capable of everything." Likewise, Einstein once said, "Play is the highest form of research." Equally, we think there's something to be said for how our happy shoppers describe our toys:
"Wish I was a kid!!! My granddaughter absolutely loves this." – Mr Paulin, Birmingham.
"My son loves his trike. 5 Stars!" - Amazon
"Its quick and lots of fun. My sons two friends have also bought this product so the fun gets better." - Graham, Amazon.
They're talking, of course, about our incredible Electric 3-Wheeled Drift Swerve Trike. Since its launch, it has captivated children aged 8-years and over. Sleek, speedy and envied by young-spirited adults, this exhilarating electric trike delivers endless hours of healthy, unforgettable play.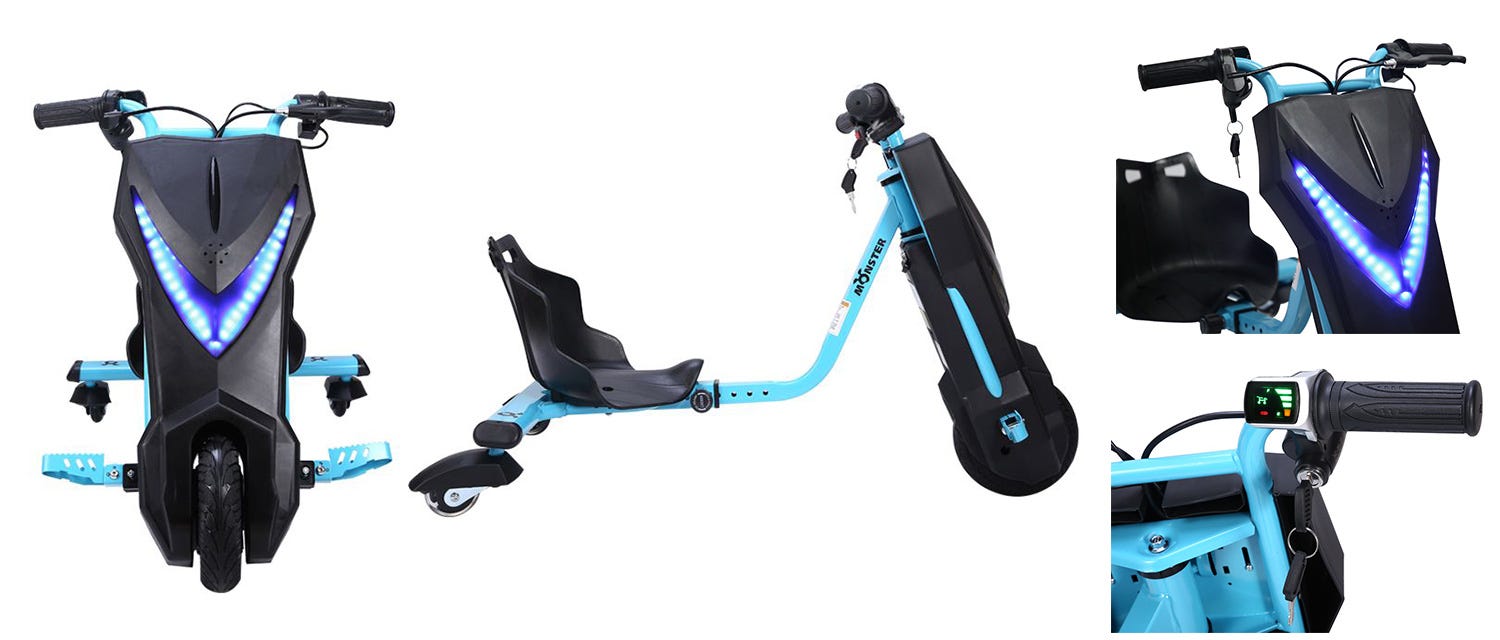 Of course, it goes without saying that for a gentler kind of fun, we have a heap of garden play choices; including sandpits, slides, swings, games tables, musical instruments, football sets, ride-on peddle toys and more. We understand that while play is for everyone, perhaps donuts are not.
Wishing you a beautiful Summer!